Two Litters are due end of February, 2017...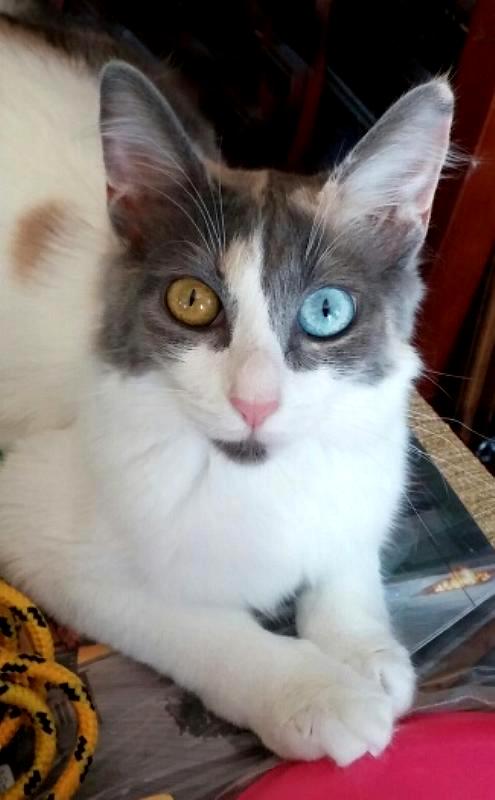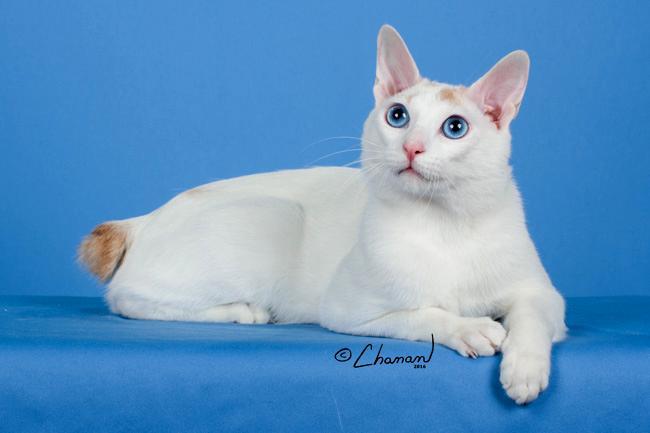 CH Kiddlyn's Miss Marigold, aka "Missy" and GC Kurisumasu Honto of Kiddlyn, aka "Boo"
(Last breeding of this pair produced longhairs and shorthairs, blue and whites, cream and whites, and dilute mi-kes all with blue and odd eyes).
and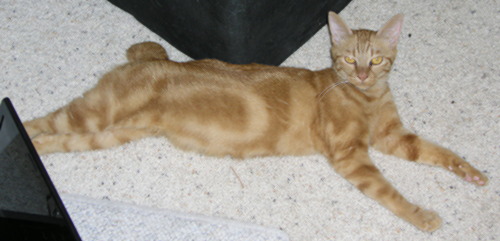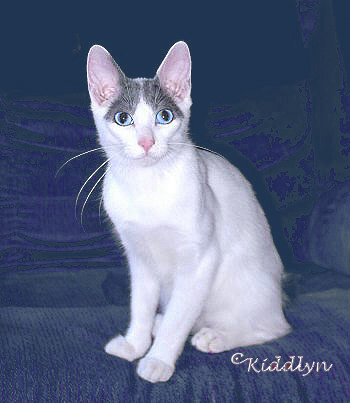 CH Goutokuji's Klassic Kara of Kiddlyn, aka "Klassy" X GC, RW Kiddlyn's Deja-Blu, aka "BJ"
(Last breeding of this pair produced splashy mi-kes and red tabby and white males. All were shorthairs).

If you are interested in reserving a kitten not pictured on this page, please fill out our Wishlist form at www.kiddlyn.com/Wishlist.html

.

and we will contact you if a kitten or adult kitty meeting your preferences becomes available.
A $200 non-refundable deposit is required to reserve a kitten or hold an adult. Deposits can be made via personal check/cashiers check/money order, Paypal to linda@kiddlyn.com or by MC/VISA/Discover/AMEX. If using Paypal you can send your payment as a gift or as "money to friends and family" and there is no fee. Or, if using a credit card, Paypal will calculate the processing fee for you. If you do not have a Paypal account, you may use the Deposit button below to make a deposit. Or, I can send you an invoice to make payment via a secured website using MC/VISA/Discover/AMEX.

We are located 30 miles southeast of Denver, Colorado. Our phone number is 303-325-5033. Domestic live animal shipping from Denver International Airport costs approximately $220 on United and there is an additional charge of $30 for a carrier. We cover the costs of the exam and health certificate required for shipping. Shipping two cats in the same carrier costs around $315. So consider a companion. We give discounts on the purchase of a pair. Please note that United is the only airline that does not embargo shipments because of weather. Most airlines require that the temperature be above 45 degrees and below 85 degrees to ship.


We can also arrange to have your kitty hand-delivered to the airport of your choice for the cost of my airfare, plus the cost of the pet in-cabin fee which is $95 on Southwest Airlines. Please do not hesitate to contact me if you are interested in a kitty, particularly if you will require shipping. Depending on your location and my cat show schedule, it may be possible for me to deliver your kitty to you for less than it would cost to ship it. We can also arrange to deliver your kitten to you at the Denver International Airport or Colorado Springs Airport if you would like to fly in and pick it up. Personal visits to my home to see the kittens prior to shipping are always welcome. If you cannot personally visit, we will be happy to send photos and video of your kitten prior to delivery.
Regarding Kittens/Adults Available for Placement...

We do not place our babies in homes where they will be allowed to roam outdoors, nor in homes where they will be declawed. All pets are sold already spayed/neutered or on strict neuter/spay agreements. We do place a limited number of showable-breeder cats to approved homes. Cats with breeding rights will be placed only with reputable, established breeders and on strict CFA show contracts. No trades. Our prices for breeding cats start at $1800.

Pet kitten prices depend on overall conformation, bloodlines, pattern and eye color. Shorthaired kitten prices range from $650-$1000. Because of their rarity, prices for mi-ke, dilute, silver, smoke or solid-colored kittens start at $800. Blue-eyed, odd-eyed, and longhaired kittens start at $850. The price of any kitty includes the cost of neutering or spaying unless otherwise noted. Longhaired pet prices range from $850-$1200. Kittens listed on this website are placed to approved homes on a first-come, first-served basis. If you are interested in any of the kittens shown, we will hold it for you only after we receive your $200 non-refundable deposit. Deposits can be made via major credit cards or Paypal payment to linda@kiddlyn.com. You can use the button above to make a deposit if you would like us to hold a kitten for you.

If you see a baby who grabs at your heart strings, please call me immediately at 303-325-5033. I cannot tell you how often someone calls or writes expressing an interest in a kitten only to learn that it was just placed a day or sometimes a few hours before they contact me.

Our "retired" show cats start at $300. Some of our older adults are free to approved loving homes. Since Bobtails seem happiest with a buddy, we give discounts on the purchase of a second kitty.
.

Kiddlyn Kattery-Japanese Bobtails ~ To Inquire: Email Linda@kiddlyn.com
Copyright 1998-2017 ~ All Rights Reserved